In the 6 months since launch, our flagship premium WordPress theme Stack for WordPress has reached yet another milestone – over 100 rating over on ThemeForest giving Stack a perfect average of 5 stars from an ever growing army of satisfied users.
Why Do Customers Love Stack?
This is an important question, as understanding why this theme in particular, from our expansive body or work, has resonated so well with the WordPress community will help us grow (and more fundamentally survive) in an very tough market with no shortage of competition.
I feel the first attraction to Stack is is most unique feature – the awesome Variant page builder. Variant is originally a powerful static page generator built by our design partner's MediumRare, and in its original for it offered the most beautiful, simple to use interface for smashing out the highest quality HTML pages based on whichever design/template you purchased.
We knew as soon as we started developing Stack that we needed something unique, so we began to see if it was possible to port the magnificent UI Variant offers and make it available for WordPress users to enjoy. It wasnt long before we got things up and running, and Variant for WordPress was born.
Variant is a totally different kind of building experience for WordPress, and it clear from user feedback that a huge number of WP users were hungry for an alternative to the usual Visual Composer powered themes so common these days and Variant satisfies this craving and more.
We didnt stop there however, as we knew there are also many folks looking for something familiar with with more granular control, so Stack is also bundled with Visual Composer making it THE most flexible platform for crafting WP sites around.
5 Star Support = 5 Star Reviews
The next aspect I feel has contributed to Stack's solid reviews is the support we offer. I know this is not specific to Stack but its something worth mention as its very simple to proclaim to offer outstanding support, but its another thing entirely to deliver it. To put it bluntly, we do. Its as simple as that. Dont take my word for it however, there is just a few examples of the feedback we recieve.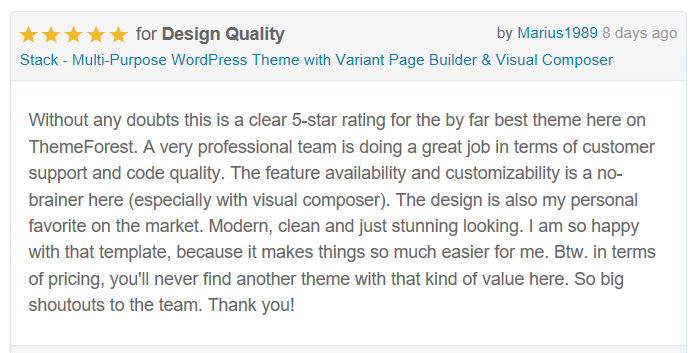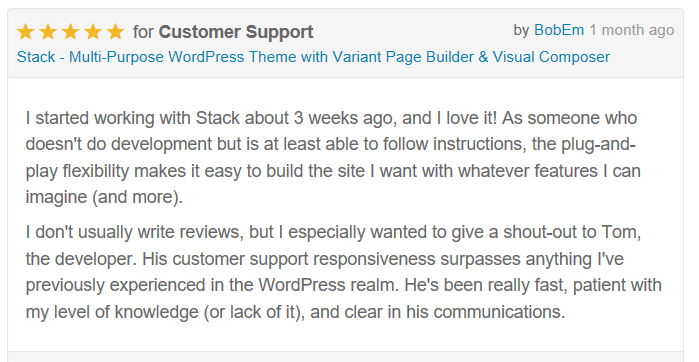 Support is something I personally take great pride in, and is a core focus here at TommusRhodus. Stack is not only a quality theme to begin with, we have your back should you run into any troubles. If you have been left in the lurch by another developer or yet another abandoned theme, you need to Stack stack for yourself and let us delight you every step of the way.
Documented, Fully.
Its not uncommon for many theme vendors to be a little lazy when documenting a premium WordPress theme, after all everyone knows this stuff right? Wrong, and we never make that assumption. Stack's extensive written documentation is fully available online so you can browse it fully prior to purchase. Furthermore, we expand on our documentation with hours of video guides detailing the more intricate parts of our theme and much more over on our YouTube channel. With Stack, the info is there where and when you need it.
Where to from Here?
We are looking for any feedback or suggestions for features you would like to see added to Stack for an upcoming major update, so if you want to help shape the future of Stack share your thoughts with us. We have recently also released an all new modal plugin which allows all Stack users to make use of the themes aweome modals in a variety of ways too, giving Stack even more bang for your buck.